PRESS RELEASE "LWSC works to ease water burden in Central Monrovia- Begins water restoration process in the area'….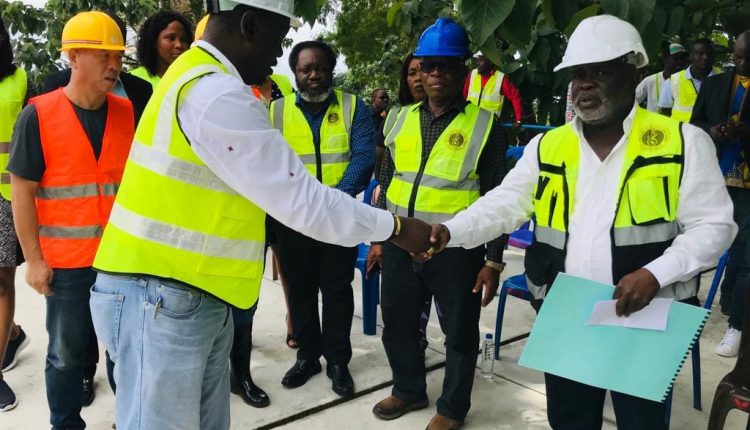 Residents in Central Monrovia and parts adjacent will no longer need to rise from beds early morning hours in search of safe drinking water as the Liberia Water and Sewer Corporation, (LWSC) has begun the process leading to the supply of safe and affordable pipe borne water to their communities after nearly a decade.
Women and children in communities including Johansson Street, UN Drive, PHP Community, Capitol Bye Pass, Slipway Community, Crown Hill, Bassa Community, Mamba Point, Ashmun Street, Carey Street, New Port Street, Mechlin Street, Camp Johnson Road and Clay Street will now simply need to turn on their taps and faucets to receive safe and affordable water when the LWSC completes all that is required to sustain its supply.
Other Central Monrovia communities poised to receive pipe borne water are Benson Street, Ducor Community, Buzzy Quarter, Warren Street, Johnson Street, Center street, Gurley Street, Perry Street, Front Street and Buchanan Street, West Point, Macdonald Street, Lynch Street, Broad Street and Jallah's Town Community.
Following a successful test pumping on Monday, July 24, 2023, the LWSC will now need to immediately address several issues inclusive of replacing and repairing all broken pipes, most of which had not had water flowing through since 2015.
The supply of pipe borne water to Central Monrovia and parts adjacent is possible following the construction of an express line from the Fish Market Booster Station on the Tubman Boulevard to the LWSC Newport Street Booster Station in Central Monrovia by the World Bank.
The express line which is valued at approximately six million united states dollars has successfully addressed the LWSC long standing challenge of supplying pipe borne water to Central Monrovia and its adjacent communities but the LWSC is still carrying out final activities that will see unhindered water supply in the concerned areas.
Speaking Monday, July 24, 2023 at program marking the official test pumping of pipe borne water to Central Monrovia and handover of the constructed express line, the Liberia Water and Sewer Corporation Managing Director Senator G. Alphonso Gaye described access to clean and safe drinking water as a fundamental human right and the foundation for the fulfilment of basic human needs.
"The restoration of pipe borne water for our people in this part of the city is indicative of President Weah's commitment to upholding such human rights for all our people", MD Gaye mentioned.
According to the former Grand Gedeh County Senator, water supply remains paramount to the developmental agenda of President George Weah's administration for its critical role played in Liberia's social economic development.
"The fact that our people, especially women and children will no longer have to leave their beds early morning to cover long distances in search of safe water and sometimes they don't even get the safe water, makes me a happy man today" the new LWSC head asserted.
The LWSC Managing Director Gaye expressed frustration over what he termed as the disappearance of pipe borne water from Central Monrovia since 2015; a situation he notes has created water burdens for residents of Central Monrovia.
"As we begin testing the integrity of our central Monrovia system today, our technical and field crews will be all out in your communities to carry out robust replacement and repairs on our system in area where necessary" MD Gaye said.
According to Senator Gaye, his administration is committed to reversing the scenario of women and children rising from beds early in search of safe water daily.
"Our women and children can now have some good sleep, they can now rest well because of what we have been able to achieve today with the support of the World Bank and our president" an optimistic Gaye said.
The LWSC boss disclosed that the World Bank Constructed express line is a result of series of proposals made by previous management teams of the LWSC, whom he thanked for their commitment to duty.
According to Managing Director Gaye, his administration appreciates the efforts of his predecessors and will always call on them when the need arises.
"To the Managing Director before me, I thank you and all your deputies and engineers for this project, we will always call upon your good offices in time of need" he added.
He then lauded the World Bank and its implementing contractor for the successful implementation of the project.
Hon. Gaye then used the occasion to commend his workforce at the LWSC, describing them as dedicated and loyal.
"Let me say this again, I am exceedingly grateful to all our employees and contractors for the level of commitment and ownership demonstrated daily in the execution of your respective tasks", a passionate Gaye said.
He then assured the LWSC workforce of his administration's commitment to improving both the infrastructure of the corporation and the welfare of all employees.
Also speaking was the World Bank's project engineer Mr. Walker Richards, who put the express line project valued at approximately six million US dollars.
Richards disclosed that additional repairs will be carried out by the LWSC noting that the pipeline project was in good shape, bringing pipe borne water into the corporation's New Port Street reservoir from its Fish Market Booster station.
It is believed that the full restoration of safe pipe borne to Central Monrovia and parts adjacent will not only ease economic hardships for residents but also address several health concerns faced by the residents.